If Wes Anderson and Babe were to have a lovechild, it would probably look something like Okja. The latest Netflix Original movie from South Korean director Bong Joon-Ho has softened audiences around the world with its stylish and endearing satire on environmentalism, the cattle industry, and companionship.
The movie sees an alternate near-future in which a 'super-pig,' the eponymous Okja, is raised in blissful harmony in the mountains, forming a solid friendship with young girl Mija.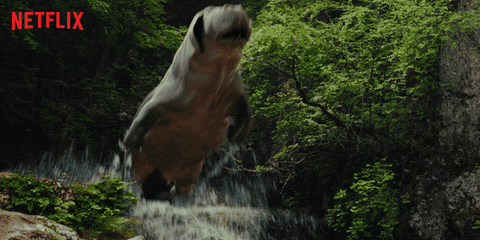 However, when the laboratories that birthed Okja shatter the mirror with the harsh and here farcical realities of GMOs and necessary food consumption, the movie sees its stakes rise and fairytale hit home.
Boasting Tilda Swinton, Jake Gyllenhaal, Giancarlo Esposito and Paul Dano in brave and original roles, Okja has tapped into a niche by harnessing clean style and savoring its affluent pop culture framework to actually convey a stronger message on the ethical dilemma of the cattle industry.
Life before @OKJAnetflix vs. Life after pic.twitter.com/M6FV0XiEon

— Netflix US (@netflix) July 5, 2017

Audiences around the world are raving about its fiction and taking its messages into their realities, many vowing to stop eating meat after witnessing the more graphic and potentially triggering slaughterhouse scenes.
Okja builds a near dystopian reality while honing in on very real and current issues with considerable impact. However, its post-credit sequence begs the question — wouldn't it have been better off as a TV series?
Binge-watching is the easiest form of education
As a product of fiction with a very real message, at times Okja feels like it could benefit with more breathing space. The movie has exciting and enigmatic characters as well as a clean and addictive style — why not extend it to its full potential?
There is clearly room and potential for a sequel, but were it to be a TV series it would be able to tackle its various characters and themes in a clear, well-timed and caring manner in order to educate and entertain viewers regularly.
The recent success is somewhat reminiscent of the patron of environmentalist/pro-vegan films, Cowspiracy. The 2014 documentary shed light on the environmental impact of meat consumption and has been labeled as life-changing by many viewers — and is still feared by meat lovers today.
However, Cowspiracy also faces a problem in its format. The documentary takes viewers on an educational journey as the narrator learns about the environmental impact of meat consumption, beef in particular, with some eye-opening statistics and spliced graphic images of animal violence.
What begins as a well-measured and reasonable film prioritizing the environment becomes a more spiritually-focused and emotional imploration in its last 10 minutes, by shifting focus to the ethical benefits of switching to a fully plant-powered diet. The problem then comes from the overload of information and all of its various sources, leading to a superficial education on every problem related to animal agriculture, without actually providing as much detail on all areas.
If the documentary had adopted an episodic format, the structure could have allowed a greater understanding of each area discussed. The inquisitive timelapses of bustling cities could be replaced with a week-long break between each episode tackling a different area of the industry.
Can more TV convince people to go vegan?
Both Okja and Cowspiracy in their differing formats do offer a form of education on the dilemmas of GMO consumption and animal agriculture more broadly. The former uses farcical satire and well-crafted fiction to give viewers a ripe wake-up call, while the latter digs up a deeper controversy to shed light on hidden facts.
But if they were both to adopt and inspire a new generation of TV series tackling these issues, their impact could be tenfold. In an era where viewers choose to watch 15 hours of TV in a row rather than one individual film on Netflix, environmentalist and educational art could see a much greater impact on the platform which thrives from binging.
The likes of Making A Murder and American Crime Story: The People v. O.J. Simpson garnered and maintained a fervent fanbase from their developed episodic depth. In order to further a contemporary audience's education while maintaining their interest, perhaps it may be time to adapt.
Veganism is growing and the impact of a plant-powered lifestyle is gaining more respect and momentum. While these documentaries have seen influence, there could always be more. What if the secret to convincing people to go vegan was to just make more TV?
Originally published on Konbini